There are many kinds of documents used in genealogical research. The information we find on them enables us to trace our ancestors back for many generations.

In my research of the Geffen family, I have been fortunate to be able to use documemts from Israel, Lithuania and the United States.

Most important for the Geffen family research, were the documents we received from the archives in Vilnius. It was from these documents that we have been able to put together the beginning of the tree. Our documents came directly from the archives. However, now anyone can go into the All Lithuanian Database on the Internet and search these documents. Click here to see a translation excerpt from one of our documents from the 1858 census for Vilkomir. If you go into the All Lithuanian Database, you will be able to see the data corresponding to ours.

One of the first documents I look for here for a deceased ancestor is the application for Social Security. This application gives the applicants name, place of birth and names of parents. To me this has always been an important document as it is filled out by the person himself.

We have been very fortunate that we were able to obtain so many of the actual registers from Lithuania. In the very near future more records will be available.

Death certificates provide a great deal of information that open doors as to where to look for many other research sources.

Petitions for Naturalization are one of the many forms an immigrant fills out to begin the process of applying for citizenship. Of all the various naturalization papers, the petition provides the most information for family history projects.

The immigrants name, birth date and birth place are given along with the same information for the immigrants spouse and children.

Another important piece of information given is the date that the immigrant landed in America and aboard what ship he arrived. This information enables one to then find the ship's manifest and learn who else came with the immigrant, in what city he arrived, and who was his sponsor or person he was "going to".

In addition to the documents shown on this page, we find a great deal of information from marriage applications, birth certificates, census records, manifests, INS files, cemetery records and many more.

Documents to me are the core of researching family histories.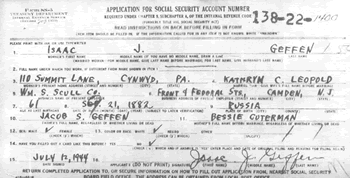 This Social Security application was for a cousin of mine. You can clearly see the names of his parents, his birth date and where he was born. In this case he wrote , Russia. Many times the applicant will write the exact town name and Vilkomir appeared on many of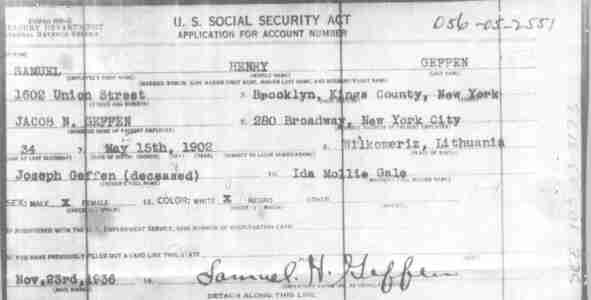 Another example of a Social Security application that says that Samuel Henry Geffen was born in Wilkomeriz (Vilkomir) in 1902.

These documents many times enable us to put together families from the names of the parents on the applications.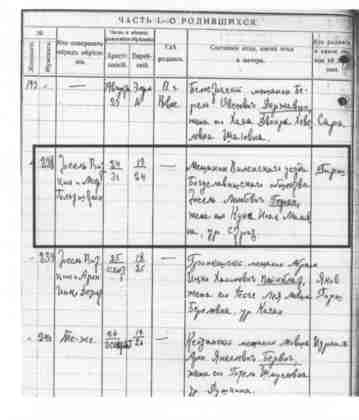 This birth record was found in the Lithuanian State Historical Archives in Vilna.

It says that Hirsch Gefen, son of Josel Leibovich Gefen and his wife Kuna Noah Manova was born August 24, 1879 in Kovno, Lithuania.

It also says that Josel was a merchant from the Vilenskiy District, Boguslav Region.

The ritual of circumcision was performed by Josel Vizkin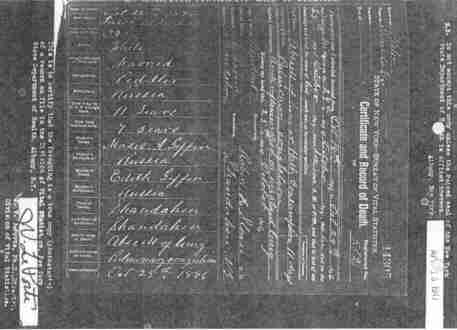 This death certificate was for the brother of my great grandmother. It tells us that Jacob Samuel Geffen was the son of Moishe Aharon and Edith Geffen. (From my great grandmother's death certificate I learned the name of "Edith" was in reality, Ita Feiga Popkovich.)

The death date was October 25, 1896 in Shandaken, New York. It gives Jacob's occupation as a peddler. It says that he lived in Shandaken for seven years which tells me he arrived there in 1889. It also tells me that he came to America in 1885.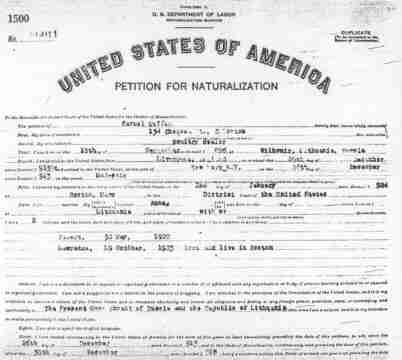 This petition for Naturalization was for Samuel Geffen. It states that he arrived in America in 1913 and resided in the state of Massachusetts since 1918. The petition is dated January 2, 1924.

The petition also states that Smauel was born in Wilkomir in September of 1896. He came to America via Liverpool, London and arrived in New York aboard the vessel Majestic on about the 26th of December 1913.

We also learn from the petition the names of two sons born before 1924, their birthdates and where they were born.