Click below to view the pages for each family


Display/Hide All

Chaiken Family of Nezhin

Chaiken Homepage

Ancestral Towns

Nezhin

Chernigov

Odessa

Philadelphia

Family Trees

Family Tree

Surname Index

Photo Albums

Video

Immigration

Research

Documents

Lost & Found

Bibliography

This Year's Milestones

Web Links

Chazanov Homepage

Ancestral Towns

Nezhin

Sosnitza

Family Trees

Family Tree

Surname Index

Photo Albums

Video

Immigration

Research

Documents

Lost & Found

Bibliography

This Year's Milestones

Web Links

Fine Family Homepage

Ancestral Towns

Bialystok

Warsaw

Ciechanoviec

Family Trees

Family Tree

Surname Index

Photo Albums

Video

Immigration

Research

Documents

Lost & Found

Bibliography

This Year's Milestones

Web Links

Geffen Family Homepage

Ancestral Towns

Vilkomir

Jonova

Kovno

Vilna

Other Towns

Family Trees

Family Tree

Surname Index

Rabbi Tobias Geffen

Photo Albums

Video

Immigration

Research

Documents

Lost & Found

Bibliography

This Year's Milestones

Web Links

Goldberg Family Jablonka

Ancestral Towns

Jablonka

Zambrow

Family Trees

Family Tree

Surname Index

Photo Albums

Video

Immigration

Research

Documents

Lost & Found

Bibliography

This Year's Milestones

Web Links

Katz/Hollander Homepage

Ancestral Towns

Berezhany

Lemberg

Family Trees

Family Tree

Surname Index

Photo Albums

Video

Immigration

Research

Documents

Lost & Found

Bibliography

This Year's Milestones

Web Links

Zavelsky Homepage

Ancestral Towns

Glukhov

Nezhin

Baku

Kiev

Kharkov

Family Trees

Family Tree

Eliezar's Family Tree

Moishe's Family Tree

Surname Index

The First Ilya

Eliezar's Family

Moishe's Family

Photo Albums

Video

Immigration

Research

Documents

Lost & Found

Bibliography

This Year's Milestones

Web Links


One Hundred Years Ago...1921
| | |
| --- | --- |
| | Dena Geffen |
| | Ruth Lillian Geffen |
| | Aba Pelleg |
| | Terence John Geffen |
| | Alvin Kantor |
| | |
| --- | --- |
| | William Roos |
| | |
| --- | --- |
| | Bernice Geffeb |
Births 1821

Shlomo David Geffen
| | |
| --- | --- |
| | Yankel Geffen |
| | Ita Lena Yankelovna |
| | Shumel (Vaynshtein) Geffen |
Engagements and Marriages
Joseph Geffen and Ann Ngo

On September 6, 2015

Joseph Geffen and Ann Ngu were married.
Joseph is the son of Theodore and Adele Geffen,
grandson of Joseph and Pearl Geffen and great grandson
of Rabbi Tzvie Hirsch and Taibe Geffen.



Nessa Geffen and Micah Bookman

Nessa Geffen daugter of Karan Sue Kessler and Peter Geffen,
was married December 10, 2016 at the Hyatt Regency, Jersey City.

In the Photo, the children, spouses and grandchildren of Peter and Karan..
.Peter, Susie, Micah, Nessa, Julia, Jonah, Lu holding Eva, Daniel.
Bottom row, Bina and Shula

Flower girls at the wedding.
Grandchildren, Bina, Shula and Eva





May 2017
A daughter was born to Jeremy and Sarah Baron.
.
May 2017
A daughter, Yael Rine, was born to Shmuel and Dafi Adler

From Peter Geffen.....A Visit to Ramat Gan
I hope you are all making it through this year in a healthy and worthwhile way. I recently visited our relative Zvi Geffen in Ramat Gan and I have attached a link to some photos. Zvi is the grandson of Zvi Geffen, who along with his brothers Eliezar and Mordecai, made Aliya from Lithuania in 1924. They bought land in Ramat Gan, managed a successful orchard, and contributed in many ways to the growth of Tel Aviv. In the 1940's they sold much of the orchard to the municipality of Ramat Gan which built a neighborhood, called to this day Shechunat Geffen. Zvi is a successful real estate developer and lives in the house that his grandfather lived in, originally built in the 20s. Yaffa and I visited him and I have enclosed a link to some photos. Zvi is renovating/preserving this historic house, which is on a hill in Ramat Gan, overlooking where the orchards once were. He discovered underneath layers of paint original wall paintings from 1932, which he had professionally preserved and restored (I sent links to Ytube films in the past on this). We also met his 89 year old aunt Dalia who lives with him. She was born in this house and lucidly described to us what it was like then. The candlesticks in the photo are from Lithuania; note the grape clusters (geffen). Zvi completed the first building of the 2 tower Geffen Tower project, situated where the packing house of the orchards was once located. As part of the project he built a playground which is named after and tells the story of his grandfather.

I am also in touch with Zvi's cousin Udi, grandson of the brother Mordechai. Those of you who knew Yaakov Geffen- he was the son of the third brother Eliezar. If you want to know exactly what Udi and Zvi's relation is to us, you can find them in the family tree website, but I'll save you the effort. They are my father's 3rd cousins.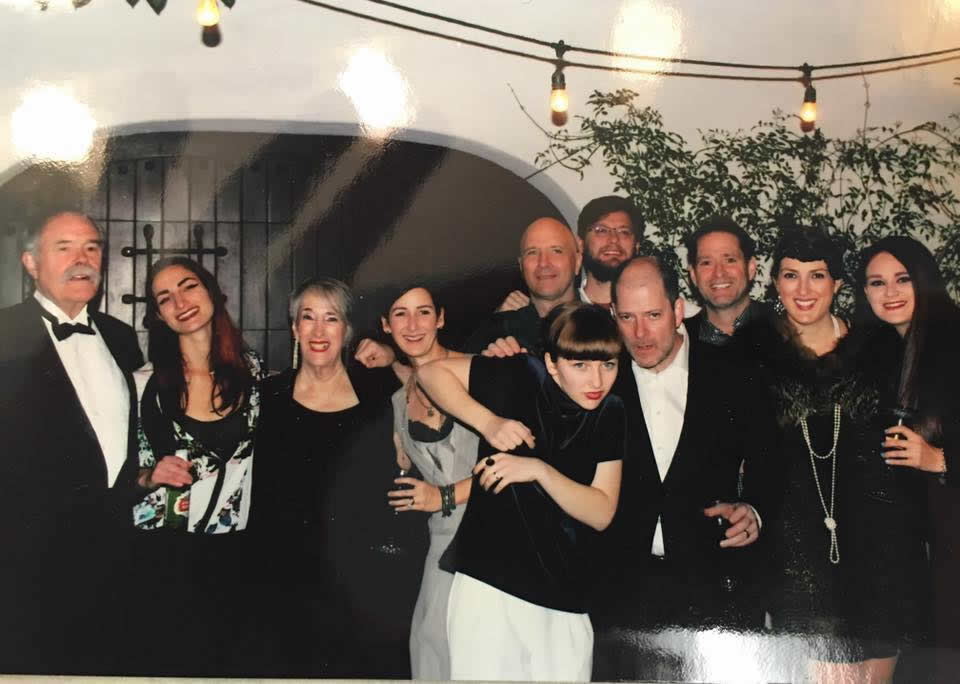 Judith Geffen Wills
Celebrates her 75th birthday at a big party in Los Angeles
with family and friends. Photo includes Judith and Kenneth with their three sons, one daughter-in-law and their grandchildren.



Shlomo Geffen
Click Here to Read Shlomo's Story


Family Reunification....From Robert Geffen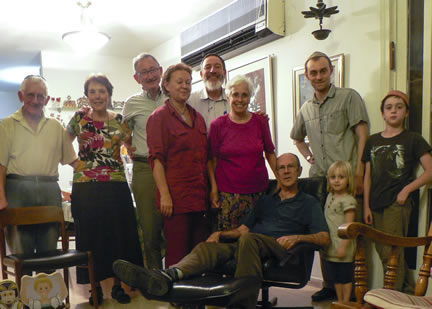 Dear All:
Yesterday I had the privilege of attending an historic event- the reunification of the Geffen family, or at least part of it, that was dispersed into Russia after Rav Tuvia Geffen left Kovna in 1903. Our hosts were Sergey and Nataly Engel, who actually initiated the reunification last summer when they "discovered" the American cousins in Israel after having lived in Israel for more than 10 years. The occasion was the visit of Sergey's father- Sergey Tkachenko- who still lives in Moscow. He brought with him a beautiful book that he produced, in Russian, containing amazing photos of his ancestors- various branches of Geffens that have been living in the former Soviet Union since WW I. He gave us an abbreviated history of 20th century Russia as the backdrop for the family story. To make it short for those who might have forgotten- Sergey Tkachenko is the greatgrandson of Gittel, one of Tuvia's sisters. Also with us were Raya Damski and her daughter Nataly. They also live in Jerusalem now. Raya is the granddaughter of Malka, another sister of Tuvia. So Sergey T.'s stories were of the descendants of Gittel and Malka, and also of the descendants of two daughters of Shalom (or Shlomo or Salomon), a brother of Tuvia's (Peter met a nephew of these daughters in Kovno). Malka and Gittel were, according to Sergey, deported with their families by the Russians in the beginning of the first World War from Kovna to the Ukraine. After the civil war that followed the Soviet revolution, they moved to Moscow. A significant part of the story was that the photos of the Geffens who remained in Kovno (but who mostly perished in the Holocaust) and of the American Geffens (Tuvia, Hirsch, and others who made it to America) and the letters that they exchanged in the 30s, were what kept each branch aware of the existence of the other- but when Stalin's regime made contact with the West a dangerous activity- the relationships ended and only now, 80 years later, have we rediscovered each other. I remind you that the bridge to this reunion was Marjorie Goldberg's wonderful site – ourfamilystory.net – which is how Sergey Engel found us. Unfortunately for us (take note Marjorie)- when we really needed the site for the first time in 110 years to figure out how we were all related (Marjorie has already updated it this year with the new information), the site was on the blink and we couldn't get into the family tree!!!

The rapt listeners included David and Sheila Wilensky, Steve and Ruth Adler, Robert and Yaffa Geffen, and M. David Geffen.





From Robert Geffen....July 2013
On Jun 22, 2013, Robert Geffen wrote..

Dear All-
It seems that our cousin, Professor Dov Levin, was recently recognized along
with other surviving partisans from WWII by Shimon Peres at a ceremony in
the President's residence.
it was held on May 6, VE day (victory over the Nazis). Dov received a medal (photos
below) inscribed on one side "Organization of Partisans, Underground and
Ghetto Fighters" and on the other side "Honor and Glory- Jewish Resistance.

Also below, a recent photo of Dov (with my daughter Aynat who just
finished her army service.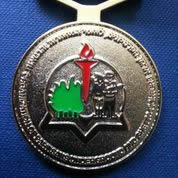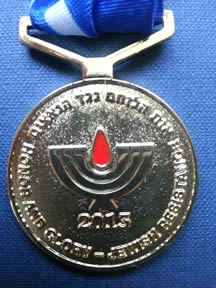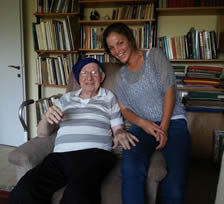 Click here to read...With a Rifle in My Hand and Eretz Yisrael in My Heart
by Dov Levin, Jerusalem
Fascinating to read and wonderful photographs..........Marjorie
From Robert Geffen....July 2014
The Story of an Underground to be published in English

"Some of you may have heard that I have been working to have Dov Levin's first book about the underground in the Kovno Ghetto published in English. The book is now being printed. I have attached the preface I wrote and also the bio of Dov that will be in the book so that you can understand the book's significance and why I undertook this project. On August 17 the publisher will be having a "book launch" where we will be gathering to honor Dov. If anyone will be in Israel then they are of course invited to attend. You will also be receiving shortly a letter from the publisher inviting you all to help this important book get to as many places as possible. I don't have everyone's emails, so please share this with all of your family and friends."

Please click here to read a biography about the author, Dov Levin, by Robert Geffen and click here to read the preface to the book
The story of an Undreground.

Click here to read the letter from the President of Israel and to see photographs from the evening honoring Professor Levin and the launch of the book

News From Rabbi David Geffen...Jan 4, 2017
On wednesday the descendants of rav tuvia and sara hene geffen who live in israel
were invited to meet with president reuven rivlin
of israel at the president's house beit hanasi
the forty people present included grandchildren, greatgrandchildren
and great-great granchildren
the mother of three great-great-great grandchildren was
there but did not bring her children too small
her grandfather was my cousin the late dr. daniel ziff
we presented him with lev tuviah edited by my cousin dr. joel ziff
and kosher usa by roger horowitz
i was given the honor of making the presentation
it was a great day
here is what i said (see below Photograph
david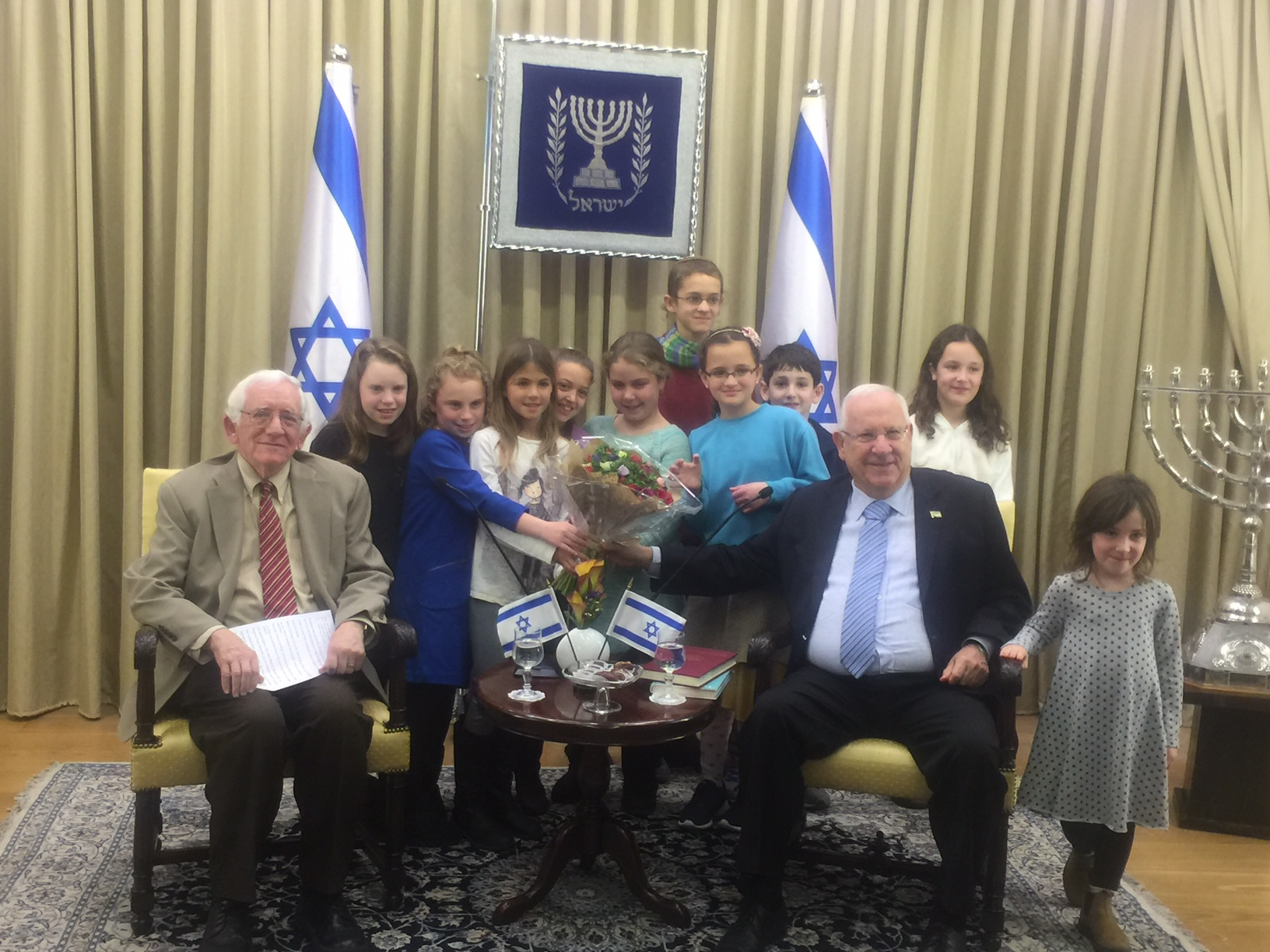 President Reuven Rivlin of Israel, it is a great honor for all of us, the descendants of Rav Tuviah and Sara Hene Geffen to meet you personally and to make a presentation from our family. What a privilege it is to be able to give these two "sefarim" to you. One is entitled "Lev Tuviah" which contains selections from Rav Tuvia's writings, including his derasha on May15 1948, and articles about him and Sara Hene by their children and grandchildren. The other book is "Kosher USA" by Professor Roger Horowitz. In it is a chapter which relates the complete story, how in 1935, Rav Tuvia changed two ingredients of Coca Cola so it would be kosher and koshe rfor Passover .A musmach of Slobodka Yeshivah, he and his wife chose toto go to the USA in 1903, making it possible for his many descendants to survive in America and now in Israel. In 1910, Rav Tuvia moved his family to Atlanta, Georgia where he served as a rabbi both for the community and also for the entire southern part of the USA for the next 60 years.

In addition to his scholarly writing in Hebrew, which first appeared here in Jerusalem in 1909 in the HaMaasef monthly, he was a man of action: He freed an innocent Jewish man from Georgia Chain Gang; he set standardsfor Jewish education for Atlanta and the south; twelve rabbis were his students; he maintained the authenticity of kosher slaughterers by checking their knives; he pursuedand caught husbands who had abandoned their wives, making sure they requested a get to be written so that their wives would not be agunot .His eight children were most important to him. He taught his 4 daughters and his 4 sons appropriate works of Judaism: Chumash and Rashi, Mishna, Dinim andTalmud. He helped each one learn how to write Yiddish.Hundreds of Yiddish letters from Iceland, Manila, Yokohamain WW2, from Spartanburg South Carolina, fromNew Orleans, from St. Louis, Minneapolis and New York are found in Rav Tuvia and Sara Hene's archives in New York. His grandchildren, who began to make aliyah in 1968 wrote letters in Hebrew to him. One of his sons wrote Hebrew letters to his father for 30 years.Two "pesukim" from the Torah were very important to Ra vGeffen, and coincidentally they appear in the Joseph stories that we are reading in the Beit Knesset during this period.In Parshat VaYeshev it says - "halomo le Yosef ...vehinaigeffen lefanai": the gematria of "halomo" is equivalent to "Tuvia ben" and Rav Tuvia's father was Yosef Geffen.In Parshat Miketz are the words "ish asher ruah elokimbo." Rav Tuviah was filled with ruah and expressed it throughout his 99 and a half years.Why do their descendants take such pride in Rav Tuvia and Sara Hene? Because of their values including -helping others, "hachnassat orchim," Jewish learning, love of Am Yisrael and Medinat Yisrael and Zionut.

President Rivlin you honor us all by accepting these books.





Rabbi Wendi Geffen....July 2015

Rabbi Wendi Geffen has served as one of the rabbis at North Shore Congregation Israel since her rabbinic ordination in 2002, assuming the role of senior rabbi in July 2015. A visionary, thought leader, and distinguished orator and teacher, Rabbi Geffen is passionate about Judaism, Torah, and the ways these ancient sources of wisdom add meaning to our lives and enable us to better our world today. She dedicates herself to learning and teaching with those interested in developing their own Jewish identities and Jewish journeys, no matter their age or background. She sees tikkun olam, the Jewish tenet of repairing the world, as a critical part of living a Jewish life, and works to empower to synagogue and larger Jewish community around the imperative to pursue tzedek/justice. Able to present complicated, nuanced Jewish texts and ideas in an accessible way, Rabbi Geffen is regularly sought as a teacher and speaker, and her writing has been published by The URJ, The Huffington Post, American Jewish World Service, as well as other prestigious publications.

Rabbi Geffen has served in various leadership roles within the Central Conference of American Rabbis, and is currently the chair of the 2017 CCAR Convention. She is a "Rabbis Without Borders" Fellow of Clal, as well as a 2012-2013 Writer's Fellow of AJWS. Additionally, she recently completed an 18-month clergy leadership fellowship through the Institute for Jewish Spirituality, and is looking forward to being a part of their Chevraya program as part of her commitment to ongoing study and spiritual growth. Locally, Rabbi Geffen serves on the Executive Board of the Chicago Board of Rabbis, the Board of JCFS' Response Center, the Advisory Council of Glencoe Family Services, and is involved with the JUF's Jewish Community Relations Council.

Rabbi Geffen is married to Scott Duby, and they are the proud, albeit sometimes exhausted, parents of two children.


Rela Geffen
2/3/2019
Professor Rela Mintz Geffen, noted American Jewish Sociologist, Dies
On Saturday, February 3, Professor Rela Geffen z'l died in Philadelphia. She
is survived by her sister and brother-in- law Lisa and Jimmy Schlesinger;
her son, Uri Monson, the Chief Financial Officer of the
Philadelphia School System, and Amy Monson, a well-known Jewish
educator, graduate of Gratz College in Philadelphia.
Professor Jonathan Sarna, president of the Association of Jewish Studies,(asociation
of North American Judaica scholars) noted. 'Professor Geffen was professor emerita of
Sociology at Gratz College; she was the former president of Baltimore Hebrew University
(2000-2007.)She was the daughter of Dr. Joel Geffen, director of field activities
at the Jewish Theological Seminary of America for forty years and granddaughter of the famed
Rabbi Tobias Geffen of Atlanta.
Professor Geffen had six cousins, grandchildren of Rabbi Tobias and Sara Hene Geffen, who
have made aliyah during the last 50 years. Dr. Steve Adler, retired president of National
Labor Court of Israel and the late Professor Dov Levin z'l, a survivor from Kovno,
are among her cousins with whom she was very close. After completing a double BA program at Columbia University and the Jewish Theological Seminary of America,
she received her PHD from the University of Florida.
According to Professor Sarna, "Professor Geffen published more than
40 articles and authored or edited 4 books. Her books: "Celebration and Renewal:
Rights of Passage in Judaism, ," Co-Edited the "Centennial Volume of Gratz College:
Freedom and Responsibility," co-authored with the late Daniel Elazar, "Conservative
Judaism: Dilemmas and Challenges." Her family in Israel heard her
give a spirited and scholarly lecture in Jerusalem on "Grandparenting," which
was her most recent field of study."
Professor Geffen was an avid participant with her seventeen cousins in maintaining
the heritage of the Geffen family which began in Kovno, then Slobodka and continued in
Atlanta Georgia for 60 years. Her great uncle was the Telzer Rav, Rabbi Chaim
A close friend of Professor Deborah Lipstadt, Rela spent three weeks in London
daily attending the Lipstadt-Irving trial.
In February, she would have celebrated her 76th birthday.

Dr. Jeremy Geffen


It is with the deepest sadness that I share that Dr. Jeremy Geffen, my partner and best friend, passed on last Monday, June 1, 2015. I know that some of you may be aware, while some of you may not - and I send my apologies for sending this news via email, if you are just hearing it for the first time.
As many of you know, Jeremy had been struggling since October 2011 with a diagnosis of soft-tissue sarcoma, which originally presented as a malignant mass in the tibial nerve sheath of his right calf. In November 2011, he underwent a wide-excision surgery, followed by several weeks of local radiation. We had hoped at this point that the cancer was cured. In July 2013, Jeremy and I decided to move from Boulder, Colorado, to Asheville, North Carolina, where Jeremy had been offered a new position as Medical Director for Mission Health's Cancer Center. Unfortunately, just four months later, we discovered that his sarcoma had come back, metastasizing to several bones. At this point, we moved back to Boulder to be near our friends and Jeremy's oncologist, Dr. John Fleagle, and the rest of his medical team.
Since our return to Boulder in the late fall of 2013, Jeremy dealt with increasingly painful and widespread metastases to his bones. He went through an epic ordeal over the last year and a half, enduring multiple types of treatment including chemotherapy regimens and targeted drug therapies. Each treatment had significant toxicities and managed to only slow the progression of the cancer.
In March of this year, Jeremy was hospitalized with uncontrolled bone pain and pneumonia. After 17 days in the hospital, he was finally released to in-home nursing care. Since then, his condition continued to worsen. Finally, about two weeks ago, it became clear that he was entering the dying process. After several days, he passed peacefully on the evening of June 1, in the loving company of myself; his sister, Amara Geffen; and a close friend of Jeremy's, Chris Trani. Another dear friend, Peggy Wrenn - present through so much of Jeremy's journey with cancer - had been with us during much of Jeremy's final days, as well.
I wanted to let you know of this very difficult news, and to also invite you to a memorial service that we will be holding in Jeremy's honor, here in Boulder. I understand some of you will not be able to attend this memorial, and I am very sorry if the date will not work for your schedule. At the same time, I do hope you can make it.
Kristina Holmes
David H. Geffen
Dear Friends,
Having only David's email list to go on,It is my job as his daughter to let everyone know of his passing away on September 3rd 2018 at the Genesis facility at Friendship Village Tempe,AZ.
and unexpected, following sustaining
Thankfully my sister, Leslie,was able to make it to his side within 2hrs of his passing.
A lovely short memorial was held at his Masonic lodge
the following eve in Mesa , AZ. A place near and dear to his heart.
On October 12th his ashes will be buried in the Scattered Garden at Jefferson Barracks military cemetery followed by a memorial and party with his family and friends in
The chosen charities are -
Small Dog Rescue of Maricopa County,AZ
Play It Forward Musical Foundation
which provides musical instruments
to underfunded schools in the Saint Louis area.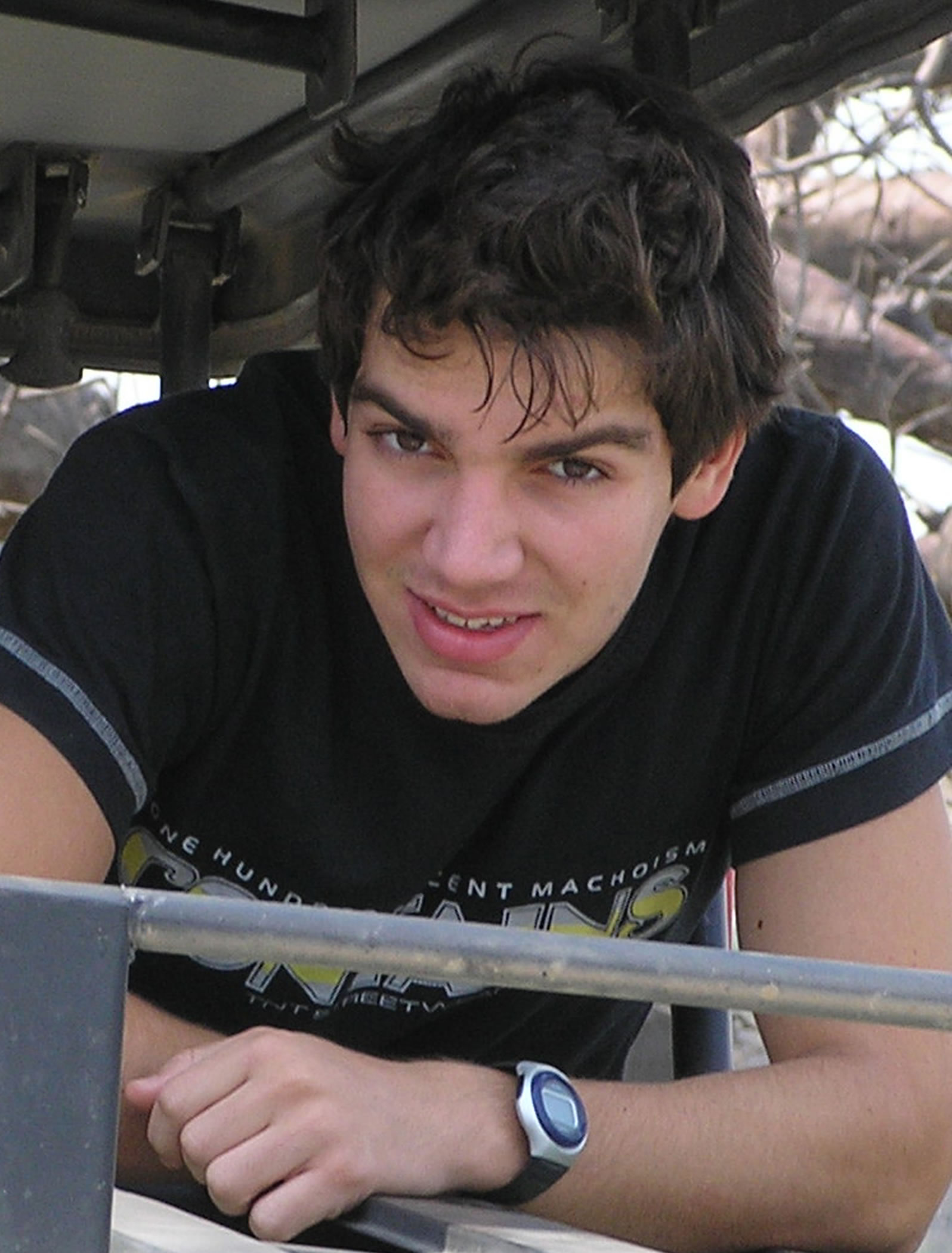 Idan Geffen, Robert and Yaffa's son, passed away on Saturday October 17th. Please click here and here, to read the memorials for Idan by his family.