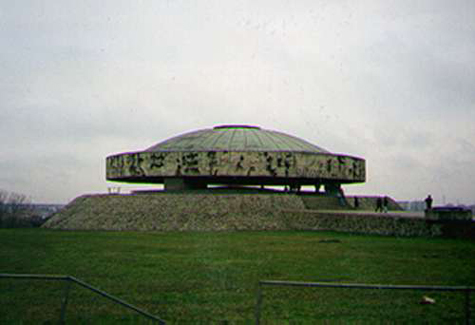 #1...Majdanek Mausoleum where ashes of some of the Majdanek prisoners were buried.
It took about two hours to drive to Lublin and the Majdanek Concentration Camp from Warsaw. Upon arriving at the campsite one sees the Majdanek Monument to Struggle & Martyrdom, a symbol of tragedy, hope and victory. It is a very impressive and moving monument and the road directly from it leads to the Mausoleum, where the ashes of murdered Majdanek prisoners are buried. The road between these monuments signifies the road prisoners took upon entering the camp to their death.

It is amazing that so much of the camp remains or was restored. When one tours the camp they see and feel the process that not only our Jewish ancestors went through, but other Russian, Romanian and Polish prisoners endured. You see the barracks where the prisoners were dehumanized; their hair shorn, their possessions taken, their clothes stripped, their bodies searched and disinfected. One sees the barracks where 500-800 persons were quartered (you cannot call this living), in sparse bunk beds, pictures of prisoners walking in columns both upon entering the camp and marching to the gas chamber.

You see the gas chambers where Zyklon B was used to exterminate our people, the crematoriums where bodies were cremated, the dissection table where their last possessions such as gold teeth or body parts were robbed from them after death. It is so quiet and peaceful on the grounds of the camp now that it is hard at times to visualize these atrocities.

There is a monument built by the prisoners themselves, under false pretenses, to commemorate their dead compatriots. This monument is called, "Three Eagles Column". It was built by prisoners in 1943 on the pretext of decorating Compound 3. The three rising eagles symbolize the imprisoned men, women and children and their faith in victory. In the base of the column, ashes of murdered prisoners were secretly buried.

The last spot one visits is the Mausoleum, with the original ditches remaining next to it where 18,000 Jews were shot on November 3, 1943, and their bodies burned in the mass ditches. These ditches had been dug by Jewish prisoners three days before the executions. Beneath the roof of the Mausoleum there is a mound of ashes of the Jewish prisoners mixed with earth. I cannot help but think, that the ashes of our Fine relatives, are here?

Majdanek prisoners included Jewish people from many areas where our ancestors lived, including Warsaw, Bialystok and Byelorussia. The Mausoleum is the final site one sees upon leaving Majdanek. When this camp was liberated on July 22, 1944 only 480 prisoners regained their freedom - few Jews survived.