Tributes To Our Mother
Vera Fine Sovel Flaxman
March 2, 1917 to April 16, 2005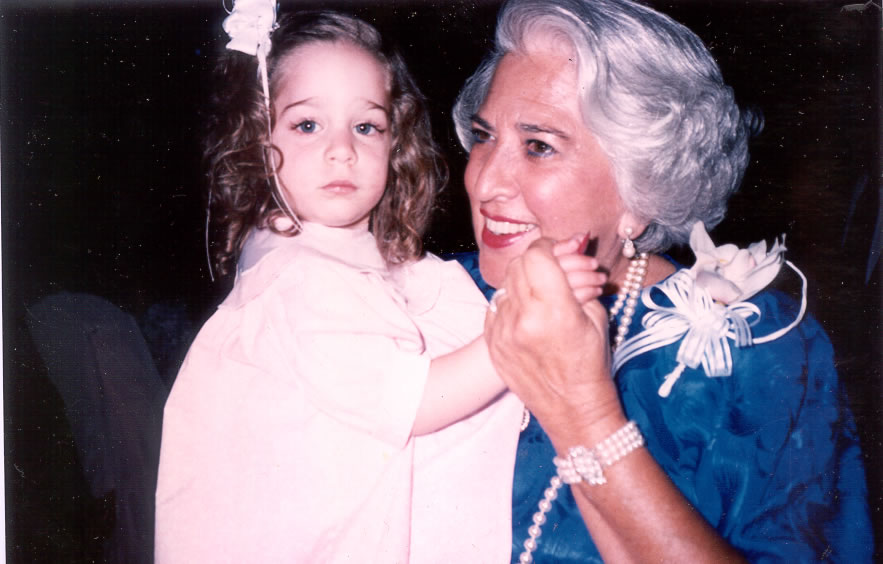 Vera Sovel Flaxman, nee Fine, mother of Marjorie Goldberg and Terry Heller, sadly passed away on April 16th, 2005. She is survived by her two daughters, two son-in-laws, four grandchildren and three great grandchildren. She is greatly mourned and missed by her family and friends. Our mother was an intricate participant in creating this site. She had a remarable memory and provided much of the information. She was a part of the Fine, Geffen and Lipschutz families by birth and the Chaiken, Chazanov and Zavelsky families by marriage. This photo, which is our favorite, is of our mother and her great granddaughter and was taken in 1988.

Please click here to view the Sovel Family Cemetery Plot

Eulogy from her daughter Marjorie

Dear Mother,

It is hard to believe we are here saying goodbye to you. But, we are really not saying goodbye as you are here in our hearts and will always stay there.

Life is always too short and no matter what age we are it is very hard to lose a parent, a grandparent or any loved one. We would like to believe that you are now looking down on us, hand in hand with our father and smiling at what a wonderful family you two have.

You always told us how proud you were of us and now it is our turn to tell you how proud we are of you. Your family was always number one with you and nothing was ever too much for you to do for any of us. I cannot count the miles you must have flown to be at our sides whenever needed or just to be with us. You taught us what a family means and your traits are ingrained in all of us in different ways. Your traditions are carried down within four generations.

You were a devoted daughter and niece. You were the apple of your father's eye and you never let him down. You two were a mutual admiration society. Your father was a grandfather extraordinary.

You had more friends than anyone I have ever known and your friends adored you. I know that when you moved to Denver you conquered the difficult task of starting over and making new friends. Not many people could have done that in their eighties.

You were a doer and never sat still and you made it very evident to both Terry and me that if you were to be incapacitated you did not want to continue with life. You were not one to want to depend on anyone. Not many people of 88 have the mental capacity like you did where you could run your own life including your financial decisions.

One of your favorite sayings was, I don't want to be a bother. Well, rest easy, you never ever were.

This is all so new to us and it is hard to absorb that you are not sitting here with us. Mother, we all love you, and please always remember you will be with us forever.

Eulogy from her daughter Terry

Dear Mother,

Marjorie has always been the writer and historian of the family and she has put so many of my thoughts into writing today. I cannot hope to say it any better because every word rings with such truth.





The outpouring of love has been tremendous from everyone. From my friends to your friends and all of our family there have been many expressions of love for you. You would have loved being with everyone here on Saturday night. We all sat around the table with fabulous food made by my friends and talked about you! The only thing missing from the table was you.





It is impossible for me to say good-bye because you were so much a part of my daily life. Mother, we are so happy you chose to come to Denver and gave us all the opportunity to get to know you at this stage of your life. We loved all of our times together but particularly Friday nights which brought back all of my wonderful childhood memories. Our "mother's lunch" once a month and our every Friday together were times that I treasure. You did, indeed, create long-lasting memories for our family. Even our dog knew you well—when you picked up your pocketbook it was time for him to ride in the car with you! You accepted our children's mates into our family and did everything you could to make them feel a part of our history, even giving Christie the stone that Daddy gave to you as an engagement gift. Mike loved playing the piano for you and hearing all of your stories about Daddy and our childhood. You were a wonderful role model for Steph and to Adam you were his Nana too. You stopped saying "call your sister" and instead expressed how happy you were to see us together. I am so glad we were able to fulfill your dream of us all going away together.





You were a wonderful mother to me as a child, even learning to drive so that you could shuttle us around to all of our activities. You taught me grace, caring, the importance of dignity, and most of all the importance of family.

In your letter to Marjorie and me, written in that handwriting that was uniquely yours,
you asked us to guide our lives with our husbands and children and to make our lives worthwhile as Daddy and you tried to teach us. Perhaps one of the most worthwhile parts of my life has been the time that I have spent with you. I asked you this week if you were getting tired of being with me so much and you replied, "never." Well, I feel the same way and my greatest sadness is that I will no longer be able to speak with you each day, hear about your life, get your advise on anything I asked about and, perhaps your greatest gift was being that one person for whom I could never do anything wrong and who would always listen to me. There is nothing like a mother's love and you gave it all. But, I will speak with you each day in my heart which although very sad today is filled with the love that you have always shown to me, our family and everyone else whose life you touched.





With all my love,
Terry

Eulogy from her granddaughter Hope

Things change all the time in life, but Nana never did.

You always knew that year in, and year out, she'd send you your silver dollar for Hanukah. To this day. I believe she cornered the market on them.

She always loved a party, and liked nothing than to be surrounded by her friends and family. Wherever she went, she made friends instantly, and kept them for years and years.

Visiting her was always a happy time. so happy, that when I chose the color for my first room, it was a brilliant lime green, just like her apartment.

She was unfailingly interested in all of us, but especially her grandchildren, never tiring of hearing every small detail of our lives.

But even though changeless, Nana was capable of taking on new challenges. We traveled together to Paris, and she took everything in stride. From language problem to my getting us lost in the red light district.

She made a conscious and deliberate decision to move across the country at an age, most people find it hard to move across the street.

Nothing was ever too much work, when it came to our family. She kept special foods for us in her kitchen, sometimes for years. She ran all over Florida with us, to stores and special attractions, and she was always willing to travel anywhere, anytime for a family celebration.

She was never more in her element than at our wedding. She said she felt so lucky, to be surrounded by her family. And we were even more lucky, to have her there.

And one thing we always, always knew, was that she loved us. Somehow I'm sure that next time we all get together, for Zach's Bar Mitzvah or Michael and Christie's wedding, that she'll be there with us. Right in the middle of things and loving every minute of being with her family.

Eulogy from her granddaughter Robin

Dear Nana,

This letter comes with much love and thought.

You were actually a very important piece of my relationship with Frank, when over twenty years ago you met Frank for the first time in Florida, when You accepted him with open arms. You always used to say "what a nice boy" and how lucky I was to have him. Out of respect and love, from that first day, Frank has always called you "Nana", which just seemed right.

As for the kids, it was such a proud moment when Sara and Nina were born. I will never forget our first trip to Florida. You couldn't wait for me to dress the girls, put them in the stroller, and hand them over, so you could go down to the pool and show them to all your friends. That week was the first of many four generations pictures.

At Hope and Steve's wedding, for the first time you really got to see and be with the real Zach. I remember you saying, "Robin, he really has heart, he reminds me of Michael." This meant so much because I know this is truly a big compliment, which I agree with fully.

One of the most important things to me was that one of the last times we spoke, you told me I was a wonderful parent and I should be very proud of myself. It meant so much to hear you say that.

I feel as thought I need to say thank you for all the wonderful things that make you "our Nana":

1. Waking up with lipstick in the morning 2. Loving the color green 3. Making the best Matza Brye 4. "Coffee with dinner, please 5. Having nuts and candy on the table at all times 6. Plastic fruit on the kitchen table 7. Wearing a bathing cap 8. Telling us the latest early bird special 9. Being the best Nana anyone could have.

Eulogy from her granddaughter Stephanie

Nana was the matriarch of the family, the queen of her castle, and she ruled the roost with poise and grace. Though she's not here with us in presence today we feel her spirit most strongly especially because we are all together.

Family was her #1 priority and if she were standing here today she would be grinning from ear to ear because all of her children are together. Her love extended so far beyond her arms, she crossed states and even oceans to come see me when I was born in Guam. I remember she taught me to play gin, she loved to show us off to her friends at the pool, and how she would leave us $1 when she forgot to pick something up. I will forever be reminded of her by lime yogurt, grape nuts, and the never ending small spoon vs. big spoon for cereal debate.

Another fond memory of Nana are Nana's famous words. Words like: Puerto Rica, Tyenol, Mr. Peep and My Terry.

Nana's famous quotes were:
"Bridge will keep your mind young and it is insurance for your old age," and "No one gets out of this world alive."

Well Nana, you are home and you should be having a great reunion with your loved ones and friends. I will miss your wisdom, laughter and most of all, your smile. Every once in a while I can still catch a glimpse of you in the hearts and faces of the family. I hear you in my head and I still fee you love all around me.


Eulogy from her grandson Michael

To My Nana,

I wanted to say thank you for all you have done for me, my family, and all those who were lucky enough to know you. Today, though full of sadness, for you will be sorely missed, is a celebration of your life. You were the matriarch of our family, and the goodness in your heart can be seen on the faces here today.

Nana, I have been so lucky to spend time together with you over these last few years. Our Friday night dinners, and especially our drives home together, gave me memories for a lifetime. You spoke to me passionately about your love for my grandfather. You told me tales of your worldly travels, philosophies on marriage, your opinions on the food at Oakhurst. Yet, on our last drive home together, we listened to music from the '40s, and you sang peacefully to yourself all the way home. It is this sense of peacefulness that I hope is with you now.

You have passed on a grand tradition, Nana. Your relationship with my mother has taught me about devotion, dedication, and unconditional love. My mom would have done anything for you, and you for her. You were never a burden, and were always patient and kind. You gave us all everything with just your smile and your love.

Nana, I thank you. Christie now wears the diamond given to you by my grandfather. It will be a comfort to know on our wedding day that you will always be with us.

So, thanks for being the best grandmother anyone could ask for. I love you and will miss you very much. But may you be in peace today as you deserve. No more blood sugars, no more indigestion. No more doctors. Only peace. Peace knowing that your family and friends love you and will cherish your memory forever.

I love you,
Mike

Eulogy from Terry and Vera's close friend Barbara at the Memorial Service in Denver

My family has enjoyed friendship with Terry and Art for more than 30 years. From the moment I met Vera, almost that same amount of time, I thought she was a beautiful woman. She was so stately and regal in her appearance, always dressing impeccably with coordinated jewelry to match. As I got to know her, I came to know her as being even more beautiful on the inside. She was so generous to those around her, had many meaningful symbols and collections of art and culture in her life, she was genuinely devoted to Judaism and the Jewish community of Philadelphia, she was very appreciative of family. Every time I saw Vera she stopped to tell me how lucky she was to have such good family assisting her. She was courageous to move to a new city and make new friends at 80 years old. She never let her nagging physical symptoms get her down. She was a treasured friend to many people – all evident by the outpouring of respect and love I encountered during the past week and by your presence here today. Much of this I saw through you, Terry, in how you set up your home and parented your family and befriended me and my family. You had such a good teacher and role model. My family and I will dearly miss your mother. We enjoyed many family dinners, bridge games and celebrations of life cycle events together. For me personally, there is some measure of comfort in knowing Vera, a woman so beautiful on the inside and outside, a woman who taught me something about generosity and courage and friendship and being a Jewish mother.